Ground anchor Wickey SimpleLock (set of 14)
Shipping: free shipping*
Delivery:
approx. 15/12/22 - 21/12/22

This product will be sent by parcel service. Please note that the indicated delivery date is based on receipt of payment today and includes internal order processing as well as shipping until delivery to the customer.The lead-time for delivery may vary in individual cases.
Ground anchor Wickey SimpleLock (set of 14)
With the Ground anchors Wickey SimpleLock you can easily embed your climbing frame or swing scaffold in the ground. For stable fastening, the hot-dip galvanized ground anchors must be embedded in concrete. The anchors are suitable for post thicknesses of 7x4.5 cm and 9x4.5 cm as well as for thicker posts measuring 7x7 cm and 9x9 cm. The anchors can be easily screwed to the inner sides of the posts and are almost invisible from the outside.
Galvanised anchor with splayed end
Dimensions 40x3 x0.4 cm
Incl. 28 hexagon head wood screws Ø7x65 mm, 28 washers, 28 safety caps
Product weight 6.3 kg
Post thicknesses 7x4.5 cm, 9x4.5 cm, 7x7 cm and 9x9 cm
Set for setting in concrete 
Perfect for climbing frames with sand pits, ground anchors mount on the inside
Extremely weather-resistant
Quality and safety tested
All stated dimensions are approximate
Anchor name
SolidLock
SimpleLock
Suitable posts

≤ 9x9 cm
≤ 9x9 cm

| | | |
| --- | --- | --- |
| Tiny- & Flyer series | | |
| Smart- & Prime series | | |
| Swing posts | | |
| Round posts | | |

Suitable for all soil conditions

| | | |
| --- | --- | --- |
| Loose, sandy soil | | |
| Firm, stony ground | | |

Stability

| | | |
| --- | --- | --- |
| Two-sided attachment to the post | | |
| Support plate included* | | |

Mounting on the inside possible**

Quick and easy assembly
For extended service life and increased safety:
SlideLock ground anchor for setting slides in concrete
Add the SlideLock slide anchor to your order to make your playground equipment extra stable.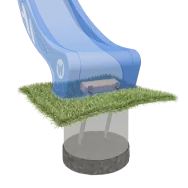 Tips & Tricks
Install the play tower and place it on the space designated. Please keep a safe distance in accordance with the installation instructions.
Mark all post of the tower on the ground and dig frost-proof holes (Ø30 x T70 cm) into the soil.
Place the play tower and install all the anchors, if possible on the hidden side.
Support the anchor with stones or the play equipment with wooden wedges until the play tower is horizontal.
Pour concrete up to about 10 cm below the surface. When the concrete is dry, the remaining hole can be filled with topsoil.