Ground anchor Wickey SimpleLock (Set of 10)
Shipping: free shipping*
Delivery:
approx. 15/12/22 - 21/12/22

This product will be sent by parcel service. Please note that the indicated delivery date is based on receipt of payment today and includes internal order processing as well as shipping until delivery to the customer.The lead-time for delivery may vary in individual cases.
Bodenanker Safety
Mit den Wickey Bodenankern Safety können Sie Ihren Spielturm oder Ihr Schaukelgerüst einfach und sicher im Boden verankern. Für eine stabile Verankerung müssen die feuerverzinkten Bodenanker im Garten einbetoniert werden. Die Anker eignen sich sowohl für Pfostenstärken von 7x4,5 cm und 9x4,5 cm als auch für dickere Pfosten von 7x7 cm und 9x9 cm. Schnell und einfach werden die Anker an die Innenseiten der Pfosten geschraubt und sind von außen fast unsichtbar.
Feuerverzinkte Anker mit gespreiztem Ende
Abmessung 40x3x0,4 cm
Inkl. Sechskant-Holzschrauben Ø7x65 mm, Unterlegscheiben, Abdeckkappen
Pfostenstärken 7x4,5 cm, 9x4,5 cm, 7x7 cm und 9x9 cm
Set zum Einbetonieren
Optimal für alle Spieltürme und Schaukeln, Bodenanker an der Innenseite anzubringen
Extrem witterungsbeständig
Qualitäts- und sicherheitsgeprüft
Alle angegebenen Maße sind ca.-Angaben
Anchor name
SolidLock
SimpleLock
Suitable posts

≤ 9x9 cm
≤ 9x9 cm

| | | |
| --- | --- | --- |
| Tiny- & Flyer series | | |
| Smart- & Prime series | | |
| Swing posts | | |
| Round posts | | |

Suitable for all soil conditions

| | | |
| --- | --- | --- |
| Loose, sandy soil | | |
| Firm, stony ground | | |

Stability

| | | |
| --- | --- | --- |
| Two-sided attachment to the post | | |
| Support plate included* | | |

Mounting on the inside possible**

Quick and easy assembly
For extended service life and increased safety:
SlideLock ground anchor for setting slides in concrete
Add the SlideLock slide anchor to your order to make your playground equipment extra stable.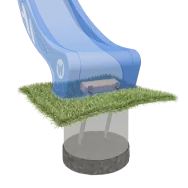 Tips & Tricks
Install the play tower and place it on the space designated. Please keep a safe distance in accordance with the installation instructions.
Mark all post of the tower on the ground and dig frost-proof holes (Ø30 x T70 cm) into the soil.
Place the play tower and install all the anchors, if possible on the hidden side.
Support the anchor with stones or the play equipment with wooden wedges until the play tower is horizontal.
Pour concrete up to about 10 cm below the surface. When the concrete is dry, the remaining hole can be filled with topsoil.