Climbing frame Wickey CottageFlyer
Spielturm mit Kletterwand und Geheimtür Wickey CottageFlyer
Willkommen in der wundersamen Welt des Spielturms Wickey CottageFlyer. Hier kann sich jeder seine eigene Welt erschaffen und sein persönliches Abenteuer beginnen.
Eine wilde Safari mit dem Thema Explorer
Ein kleiner Entdecker durchquert die Wildnis, steigt die Kletterwand hinauf und schleicht sich durch die Geheimtür. Schnell greift er nach dem Teleskop. In der Ferne erkennt er eine Herde grasender Elefanten. Das muss er sich näher ansehen. Aufgeregt geht es die Rutsche hinunter weiter ins Safari-Abenteuer!
Ein Verborgener Schatz mit dem Thema Islands
Nach einer langen Reise geht der kleine Abenteurer die letzten Schritte auf den Sandkasten zu. Ein kurzer Blick auf die Karte – ja, hier muss es sein. Hastig beginnt er zu graben, denn genau hier soll der seltenste Schatz der Welt verbuddelt sein. Schon bald hat er die Truhe voller glänzender Goldstücke und funkelnder Edelsteine in der Hand.
Eine zauberhafte Wiese mit dem Thema Boutique
Auf einer idyllischen Blumenwiese schwingen zwei Freundinnen auf den Schaukeln immer höher und höher. Es fühlt sich an, als könnten sie mit den Vögeln fliegen. Jetzt ist es aber Zeit für eine Pause. Unter der Markise des kleinen Shops lassen sie sich eine erfrischende Limonade schmecken!
Fly, Wickey, Fly...!
Produktdetails
Wickey Flyer-Serie
Kesseldruckimprägniertes Massivholz
Erstklassige Qualität und maximale Sicherheit
Verschiedene Aufstellmöglichkeiten
10 Jahre Garantie* auf alle Holzelemente
Podesthöhe 120 cm
Pfostenstärke 9x4,5 cm
Das ist alles dabei
Wellenrutsche mit Wasseranschluss 220 cm
2 Schaukelsitze inkl. verstellbarer Seile
4 Rundum-Schaukelschellen mit Kunststofflagern
Schaukelverbinder aus Holz
5 Klettersteine
2 Sicherheitshandgriffe
Teleskop
Wetterfeste Plane 650 g/m²
Gerade Kletterleiter
Kletterwand mit Geheimgang
Wetterfestes Planendach 650 g/m²
Stickerfolie
Stickerfolie Alphabet
Integrierter Sandkasten
Alle benötigten Schrauben
Zweiteilige Sicherheitskappen zum Verdecken der Schrauben
Ausführliche Montageanleitung für den einfachen Aufbau
Erfahren Sie hier, was Wickey so besonders macht.
Kreativität ist für uns das A und O. Deswegen liefern wir die Plane nicht zugeschnitten, sodass Sie und Ihre Kinder Ihrer Phantasie freien Lauf lassen können. Unsere Bilder haben Sie inspiriert? Die Schnittmuster finden Sie in der Montageanleitung Ihres Turms.
Holz ist ein Naturprodukt, das sein Volumen durch Trocknung oder Feuchtigkeitsaufnahme ändert. Wickey möchte Ihnen die Montage so einfach wie möglich gestalten. Daher ist es vorteilhaft, einige Holzelemente eigenständig zu bohren, damit die Passgenauigkeit und Stabilität gewährleistet wird.
Achtung
Nicht für Kinder unter 3 Jahren geeignet.
Nur für den Hausgebrauch, Benutzung unter unmittelbarer Aufsicht von Erwachsenen.
Die angegebenen Maße und Farben können geringfügig abweichen.
* Die ausgeschriebene Garantie ist für alle Holzteile gültig, bei gleichzeitigem Erwerb unserer hauseigenen Anker. In jedem anderen Fall gilt die zweijährige, gesetzliche Gewährleistung. Weitere Informationen bezüglich des Garantieumfangs und dessen Geltendmachung, findest du in unserer Garantieerklärung.
Anchor name
SolidLock
SimpleLock
Suitable posts

≤ 9x9 cm
≤ 9x9 cm

| | | |
| --- | --- | --- |
| Tiny- & Flyer series | | |
| Smart- & Prime series | | |
| Swing posts | | |
| Round posts | | |

Suitable for all soil conditions

| | | |
| --- | --- | --- |
| Loose, sandy soil | | |
| Firm, stony ground | | |

Stability

| | | |
| --- | --- | --- |
| Two-sided attachment to the post | | |
| Support plate included* | | |

Mounting on the inside possible**

Quick and easy assembly
For extended service life and increased safety:
SlideLock ground anchor for setting slides in concrete
Add the SlideLock slide anchor to your order to make your playground equipment extra stable.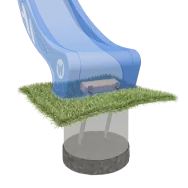 Tips & Tricks
Install the play tower and place it on the space designated. Please keep a safe distance in accordance with the installation instructions.
Mark all post of the tower on the ground and dig frost-proof holes (Ø30 x T70 cm) into the soil.
Place the play tower and install all the anchors, if possible on the hidden side.
Support the anchor with stones or the play equipment with wooden wedges until the play tower is horizontal.
Pour concrete up to about 10 cm below the surface. When the concrete is dry, the remaining hole can be filled with topsoil.